SRI-UPDATE-L #2 2005
(
click here
for subscription information)
Date: Fri, 10 Nov 2005
To: SRI-UPDATE-L@cornell.edu (SRI-UPDATE-L)
From: Norman Uphoff
Subject: SRI-UPDATE-L #1 (November 2005)
Dear SRI-Update-L subscriber,
This is the second in the SRI UPDATE series that you will receive every other month. Enhanced versions of these e-updates (with photos and expanded links) and archives are available on the SRI website at http://ciifad.cornell.edu/sri/listservs/index.html#update. This new url also contains subscription information for other SRI groups around the world.
The sections directly below provide an overview of the contents of the entire Update to let you know what items will be discussed in detail. (To subscribe to the interactive discussion list instead of this announcement-only list, see http://ciifad.cornell.edu/sri/listservs/index.html#rice).
-Norman Uphoff
CIIFAD SRI Group
1. Support from ministers of agriculture in Nepal and Cambodia
2. SRI crop withstood multiple typhoons in China
3. SRI shows potential to conserve cultural diversity in Philippines
4. Farmer initiative to disseminate SRI in Vietnam
5. SRI presentation to international rice conference in Indonesia
6. Keynote on SRI at 2005 Deutscher Tropentag in Germany
7. Oxfam-UK puts photostory onto internet on SRI in Cambodia
8. Controversy over SRI vs. 'Best Management Practices' arises
------------------------------------------------------------------------------------------------------
1. SUPPORT FROM MINISTERS OF AGRICULTURE IN NEPAL AND CAMBODIA
Shortly after SRI Update #1 was sent out in August, Nepal's Minister of Agriculture and Cooperatives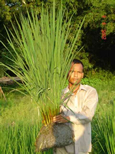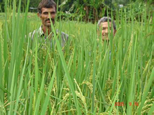 visited Morang District with senior staff from Kathmandu to observe SRI crops in the field and talk with SRI farmers. He gave a strong endorsement of SRI dissemination to his staff based on what he has learned from farmers (and his own family) about their experience with SRI. The kind of magnificent phenotypical response that SRI methods are eliciting from rice in the Nepali terai can be seen from a picture that Rajendra Uprety (DADO, Morang) sent, of a rice plant grown from a single seed (left) and of a rice crop growing 5.5 feet tall (right) without lodging. A BBC World Service story on this SRI experience is available at: http://news.bbc.co.uk/2/hi/south_asia/4200688.stm
Three days later in Cambodia, the Minister of Agriculture, Forestry and Fisheries took several hundred of his staff from Phnom Penh HQ to Takeo Province to see SRI for themselves and to hear from farmers before he expressed his strong support for SRI spread in Cambodia. The number of SRI users in Cambodia was about 17,000 in 2004, and this year, probably three times that many. Note that the Government of India already in May advised rice farmers in that country to use SRI "wherever feasible."
2. SRI CROP WITHSTOOD MULTIPLE TYPHOONS IN CHINA
Eastern China, and particularly Zhejiang Province, was hit by a series of typhoons in August-September, which considerably damaged the summer rice crop. Dr. Lin Xianqing, senior researcher at the China National Rice Research Institute in Hangzhou, reports that the SRI fields of Nie Fu-qu, lead farmer in Bu Tou village, came through three typhoons, which lodged the rice in other farmers' paddy fields, with a harvested yield of 11.38 t/ha, and a grain-set ratio of 93.4%. This almost matched Nie's record-setting yield of 12.1 t/ha in 2004 with SRI methods (see China update). Nie is an innovative farmer who is doing his own trials with direct-seeding and no-till cultivation, along with variations in SRI, as described in a trip report from Uphoff's visit to Bu Tou in summer 2005. On resistance to storm damage, see also report from Vietnam.
3. SRI SHOWS POTENTIAL TO CONSERVE CULTURAL DIVERSITY IN PHILIPPINES
The Ifugao rice terraces in northern Luzon are world-famous. In recognition of their antiquity and beauty, UNESCO has designated them as a World Heritage site. However, because current production levels are not remunerative enough, given the high cost of 'modern' methods, to make rice-farming attractive, local residents are giving up rice production, and also maintenance of these terraces, which need continuous attention. [more...]
Thinking that SRI could help to make rice farming on these terraces more attractive, NGO partner PRRM (Philippine Rural Reconstruction Movement) had introduced these new methods. The initial results have now been reported by Obet Verzola, volunteer coordinator of the SRI-Pilipinas network, with crop cuttings made, calculated and averaged by local government agricultural technicians. The variety used was a popular, local aromatic one. The yield with standard methods was 4.5 t/ha, while with SRI methods it was 15.0 t/ha. While more trials and more evaluations will need to be done, it appears that like SRI could indeed help to conserve cultural diversity -- and rice biodiversity -- in addition to enhancing agricultural productivity and rural incomes.
4. FARMER INITIATIVE TO DISSEMINATE SRI IN VIETNAM
Elske van der Fliert, program development officer with FAO's vegetable IPM program in Vietnam,


reports visiting a field day organized by a farmer group in Hanoi province presenting the results of their SRI trials this past season. Four women farmers (right; click on photo to enlarge) reported spreading SRI to about 1,000 farmers in their commune, cultivating a rice area of about 300 ha. This area was hit earlier in the season by a severe storm that lodged conventionally-grown rice but did not affect SRI rice (see picture at left). For more information, see country report.
5. SRI PRESENTATION TO INTERNATIONAL RICE CONFERENCE IN INDONESIA
September 12-14 the Indonesian Agency for Agricultural Research and Development hosted an international rice conference in Bali, in cooperation with IRRI. Norman Uphoff was invited to make a presentation on "Prospects for Rice Sector Improvement with the System of Rice Intensification, considering Evidence from India," co-authored with Dr. A. Satyanarayana from the Andhra Pradesh Agricultural University (ANGRAU) and Dr. T. M. Thiyagarajan of Tamil Nadu Agricultural University. Uphoff's trip report on his visit to Indonesia, including a report on the conference, is also available.
6. KEYNOTE ON SRI AT 2005 DEUTSCHER TROPENTAG
This year's "Tropical Day," an annual event in Germany, gave Norman Uphoff an opportunity to present SRI ideas and experience, within the larger context of agroecology, to a European audience of faculty and graduate students, assembled at the University of Hohenheim near Stuttgart. Both the paper and the PowerPoint presentation are available. Interest in SRI had been built up by presentations at previous Tropentags by Georg Deichert and Koma Yang Saing on SRI experience in Cambodia (http://www.tropentag.de/2002/proceedings/node15.html) and then by Juergen Anthofer reporting on his evaluation for GTZ of SRI performance in Cambodia (http://www.tropentag.de/2004/abstracts/full/399.pdf)
7. OXFAM-UK PUTS PHOTOSTORY ONTO INTERNET ON SRI IN CAMBODIA
A narrative with pictures has recently been produced by Oxfam UK telling the story of "Producing higher rice yields in Cambodia" through SRI methods:
http://www.oxfam.org.uk/what_we_do/where_we_work/cambodia/sri_seed.htm#
8. CONTROVERSY OVER SRI VS. 'BEST MANAGEMENT PRACTICES' ARISES
SRI was developed particularly to benefit small farmers who needed to get the most production possible from their limited land, labor, water and capital. However, farmers and researchers have found that when SRI methods for managing plants, soil, water and nutrients are used to best effect, with mobilization of soil biological processes, the results can surpass what is obtained with 'best management practices,' involving high inputs of purchased inputs.
An article to appear soon in Field Crops Research by McDonald et al. has analyzed a set of 40 yield comparisons between SRI and BMP, excluding the 5 Madagascar cases that showed clear superiority of SRI over BMP under those conditions, and concluded that while SRI methods are evidently better for farmers with currently low yields, BMP are still 11% better than SRI practices. (We will let you know in a future update when the Field Crops Research article is published).
The data base on which this conclusions rests has many flaws and faults, which N. Uphoff has pointed out (http://ciifad.cornell.edu/sri/listservs/ntuonfcrarticle.pdf). But more important, on-farm comparison trials done during 2004 by leading research institutions in China and India (the China National Rice Research Institute, the Sichuan Academy for Agricultural Sciences, the Andhra Pradesh Agricultural University, and the Tamil Nadu Agricultural University) – that were more extensive and more carefully controlled and measured than the data sets used in the McDonald et al. article -- documented a clear yield advantage for SRI over BMP.
The SRI results, from over 1,600 comparison trials, had averages of 7.22-11.9 t/ha -- 27.7-40.6% higher than the averages of 5.66-8.8 t/ha for BMP. These comparisons were of 'real' SRI vs. 'real' BMP, whereas most of the data sets used in the McDonald et al. article had no evidence to back them up that the data points reported met consistent criteria for either SRI or BMP or for both.